3M 5952 VHB Acrylic Foam Heavy Duty Tape For Car Camcorder DVR Holder
Product Detail
Product Tags
Product Description
The 3M 5952 VHB acrylic foam tape is modified acrylic adhesive on both sides of a very conformable, adhesive foam core. The combination of strength, conformability and adhesion makes it one of the most capable and well-rounded 3M VHB tapes. It is specifically designed for good adhesion to high, medium and lower surface energy plastics and paints, metals and glass. Applications for this tape include bonding and sealing polycarbonate lens over LCD, signage and windows to post-painted control panels.
Structures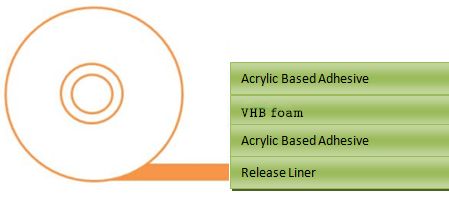 Features
Waterproof, solvent resistant, high temperature resistant.
There is good adhesion on the curved surface.
Can fill up and stick on the uneven surface.
High and excellent filling effect.
Unique back glue is also suitable for different surface and low temperature construction.
Short-term temperature resistance is 208 ℃, long-term temperature resistance is 132 ℃.
Good solvent resistance for application protection and longer product life.
Datasheet
Project name

Value

Thickness

45Mils(1.1mm)

Temperature Resistance

300°F(149°C)

Work temperature

200°F(93°C)

Color

Dark gray

Adhesive

Modified Acrylic

Carrier

Closed-cell acrylic foam

Certification

UL 746C

Application Ideas

 

Bonds to a variety of plastics and paint systems
Applications
Car trim strip, front trim, rear trim, bar, corner anti-collision bar, rear guard board, stainless steel tank cover, pedal, door handle, wheel arc, stop flow, plate brake light.
Motorcycle sign, metal trim panel, auto parts, safety glass composite, etc..
Nameplates and logos, electronic displays, panel to frame, stiffener to panel.
---
---
Write your message here and send it to us