PET PVC Blue Photoluminescent Film Tape Glow in Dark for Emergency Exit Signage
Product Detail
Product Tags
Aerchs is the leading and proffessional manufacturer of photoluminescent tape.
Product Description
Photoluminescent film tape is a luminous material that glows bright enough for a long time after the light source is turned off. This Photoluminescent Film tape is designed for marking evacuation routes and emergency exits in hospitals, offices, schools and other public buildings and commercial facilities. This photoluminescent tape glows in the dark with a green color, blue color, orange color etc.
Features
Photoluminescent film tape can not only be a beautiful home decor through your DIY, but also be a safety mark at home or at emergency exits, as well as traffic signs and firefighting signs and danger signs in the public.
ECO-FRIENDLY MATERIALS: The Glow In The Dark Tape is made of PET film which is Eco-friendly, waterproof, non-radioactive and non-toxic. It increases safety on workplaces and homes. And if need printing please choose PVC material.
HIGH LUMINANCE GLOW TAPE: The Glow In The Dark Film can be luminous in the darkness after absorbing enough light in the day time, which can last for a long time and make you see things clearly in low visibility condition.
WORK AT MANY OCCASION: Ideal to use at home & office, parties, theatre activities, decorations, clothing, games, cardboard, backpacks, bikes, walls, glass, handrails, stairs, doors, exits, emergency corridors, switches, instruments, imaginative projects, art work, lettering and more.
EASY TO USE: Just peel off the backing and stick the tape to a clean, dry surface. You can make any design by simply cutting tape to any size. The tape has excellent UV stability and does not show significant degradation when use outdoor.
Datasheet
| | |
| --- | --- |
| Product Name | PET /PVC  Photoluminescent Film Tape |
| Material | PVC/PET (PVC luminescent film for printing) |
| Glow Time | 2,4,6,8,10,12 hours |
| Back Paper | Release paper |
| Feature | Non-tonix,Non radioactive, High initial Luminescent |
| Application | Screen printing,Inkjet printing,Exit signs,Guiding lines,Decoration etc |
| Glow Color | Green, blue, blue green, pink, orange |
| Size | 1.24*45.7m (Could be customized) |
Application
It can be cut into all kinds of figure and pattern for pasting;
It is designed for indoor safety and egress marking tapes and signage and is designed to absorb energy from any nearby ambient light such as fluorescent lamps or sun-light;
It is widely used in the ways of vessel, vehicle, underground, channels, fire fighting etc;
It can be used for stage blocking and spiking, set and stage decoration, arts and crafts and party decorations;
It is used for marking exits in dark areas. Flexible vinyl backing is conformable and easy to cut to size. Used to mark light switches;
Others: Switch Electrical Appliances, Remote Control, Wall Switch, Plugs, Sockets, Locks, Flashlight, Door Handles, Handrails, Fire Extinguishers, Fire Alarm, Rescue Equipment etc;
Safety Marking: Used for Safety Instructions and Warning, Emergency Exits and Channels, Subway, Railway Station, Airports, Air Defense Works, KTV, Cinema, Supermarket, Hospital, Terminals, etc.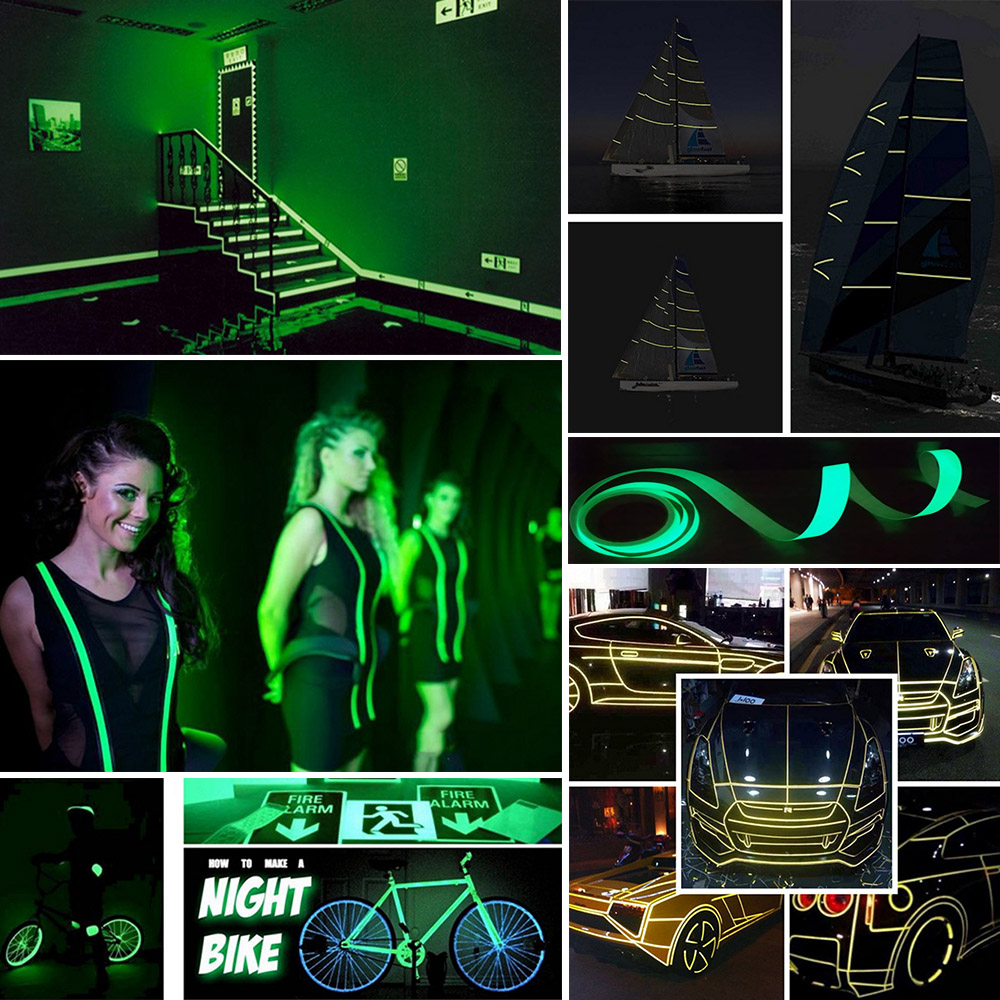 ---
Previous:
Removable Washable Grip Reusable Tape for Hook, Photos, Phone Holder and Carpet, Easy Grip PU GEL
---