Removable Washable Grip Reusable Tape for Hook, Photos, Phone Holder and Carpet, Easy Grip PU GEL
Product Detail
Product Tags
We are a professional and experienced manufacturer of Grip Reusable Tape, PU GEL products,anti slip pad, hook tape

Proudcts Description
Grip Reusable Tape is a kind of adhesive tape that can be pasted anywhere, can be washed and reused. It has a wide range of USES, hooks, tugs, carpet stickers, cell phone rings, phone case and so on.
Grip Reusable Tape with the features of water-washable, reusable, eco-friendly, easy to peel-off with residue. It is made from modified polymer resin raw materials, so no small molecule release during use. It suitables for high and low temperature environment. It has excellent reliability, no solvent, no odor, no pollution, no damage to the substrate.
It Can be customized according to customer needs.
Features
Colours: White, Black , Transparent.
Washable: It is washable if get dirty and can be reused.
Reusable: it can be reused for many time.
Removable: it leaves non-trace after using it.
Easy to die cutting: It could be die cut to any size. Making it the best Gel Pad solution on the market!
Eco-friendly: It has excellent reliability, no solvent, no odor, no pollution, no damage to the substrate.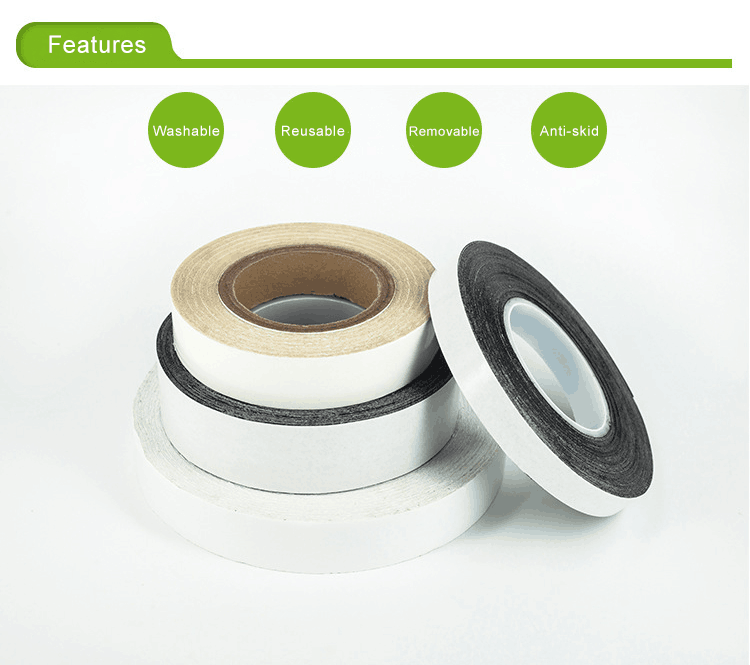 Datasheet
NO
Property

   Value

Unit

Remark

1
PET and Acrylic adhesive Thickness
0.05+/-0.01
mm
2
Removable PU GEL Adhesive Thickness
0.95+/-0.05
mm
3
Initial Adhesion
≥11#
#Stainless Steel
4
Peel Adhesion
≥10
g
TY250 slight sticky
≥50
g
TY208 low sticky
≥180
g
TY240 Medium Sticky
≥350
g
TY225 High Sticky
5
Permanent adhesion
≥72
H
6
Temperature resistance
-20℃-85℃
℃
7
Washing Times
≥100 times
Times
8
Color
Clear/Black/White
NA
Application
Grip Reusable Tape Suitable for Metal (Stainless Steel, Aluminum, Copper, Iron, Steel and Zinc Alloy etc), Plastic materials, Rubber, ceramic, woods and so on. Such as cement, paper, leather, tile, ceramic, marble, glass, Painted wall and wooden for temporary protection.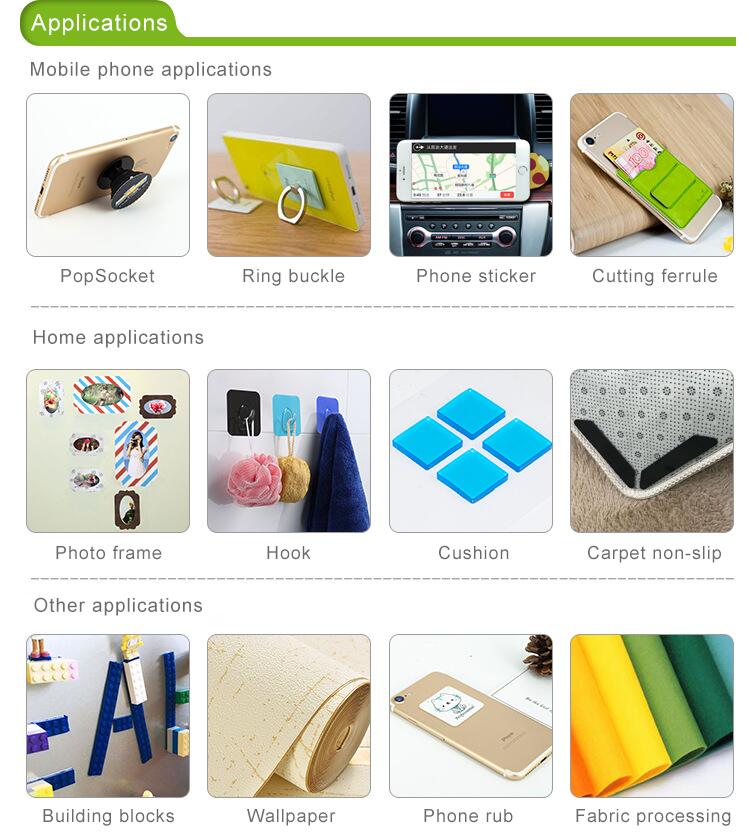 Classification
One side removable tape(PET in the centre)
One side is protected by protective paper, this side is cannot removable. You can tear the protective paper off, stick this side to something that you want permanent paste. The other side is removable side without protective paper, this side can be stick and tear repeatedly.
Double side removable tape(the tape can be stretched)
Two side is can be removable.

Steps for washing
Dip the tape into clear water.
Attention: please don't use alcohol and other reagent to wash it.
Use your fingers scrub the surface of removable glue back and forth for about 20 seconds.
Attention: do not use towel or brush to wash it.
After washing, put it aside waiting for air drying, then the tape could be reusable.
Attention: do not use anything like handkerchiefs to scrub it.
---
---
Write your message here and send it to us