3M 851 Circuit Plating Tape PET Green Tape for Circuit Printing Board
Product Detail
Product Tags
Product Description
3M 851 circuit plating tape  is a green PET film tape with silicone or rubber pressure sensitive adhesive, it uses for printing circuit board masking during electroplating. The strong adhesion and high temperature resistance is suitable for plating photo splicing, shipping and packing plasma spray.
Structures
Silicone/rubber adhesive 
 Polyester film
Features
Thick adhesive coating reduces undercutting because adhesive blocks out solutions between fingers.
Specially designed adhesive that usually performs better when there is no oven to heat tape and cardboard.
Polyester backing reduces the stretching and recycling of tape associated with uneven stop lines.
Datasheet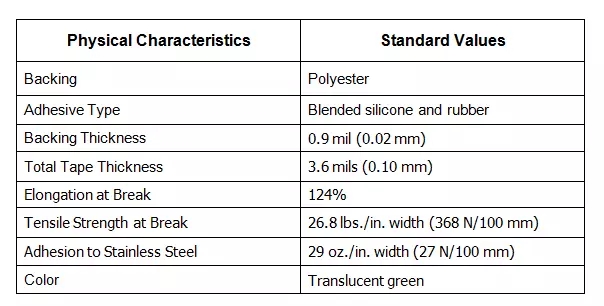 Applications
For printing circuit board .
For electric assembly general purpose masking.
Low-stretch polyester film can be applied by machine or by hand.
---
---
Write your message here and send it to us