3M8805 8810 8815 Double sided Thermally Conductive Adhesive Transfer Tapes for LED and CPU Iphone
Product Detail
Product Tags
Product Description
Thermally conductive adhesive transfer tape 3M8805/8810/8815 is designed to provide a preferential heat-transfer path between heat-generating components and heat sinks or other cooling devices (e.g., fans, heat spreaders or heat pipes). 3m8805/8810/8815 is a good application in the electronic field because of its strong adhesion, long service life and high thermal conductivity.
Jumbo Roll Size
3M 8805: 0.125mm*550mm*66m
3M 8810: 0.25mm*550mm*50m
3M 8815: 0.38mm*550mm*330m
Structure
Acrylic adhesive
Class cloth
Acrylic adhesive
Blue PET liner
Features
High mechanical strength.
Excellent shock performance.
Wider and longer roll is available.
Halogen free.
Ideal for thin bonding applications.
Good thermal transfer.
Good anti – elasticity, can prevent the curved part from sticking up.
Strong adhesive force for all kinds of metals.
Thermal conductivity, weather resistance, good scalability, adhesive stability, durable.
Good stamping performance. It is suitable for half stamping and full stamping.
It can be cut, customized, processed and die-cut according to customer desire.
Datasheet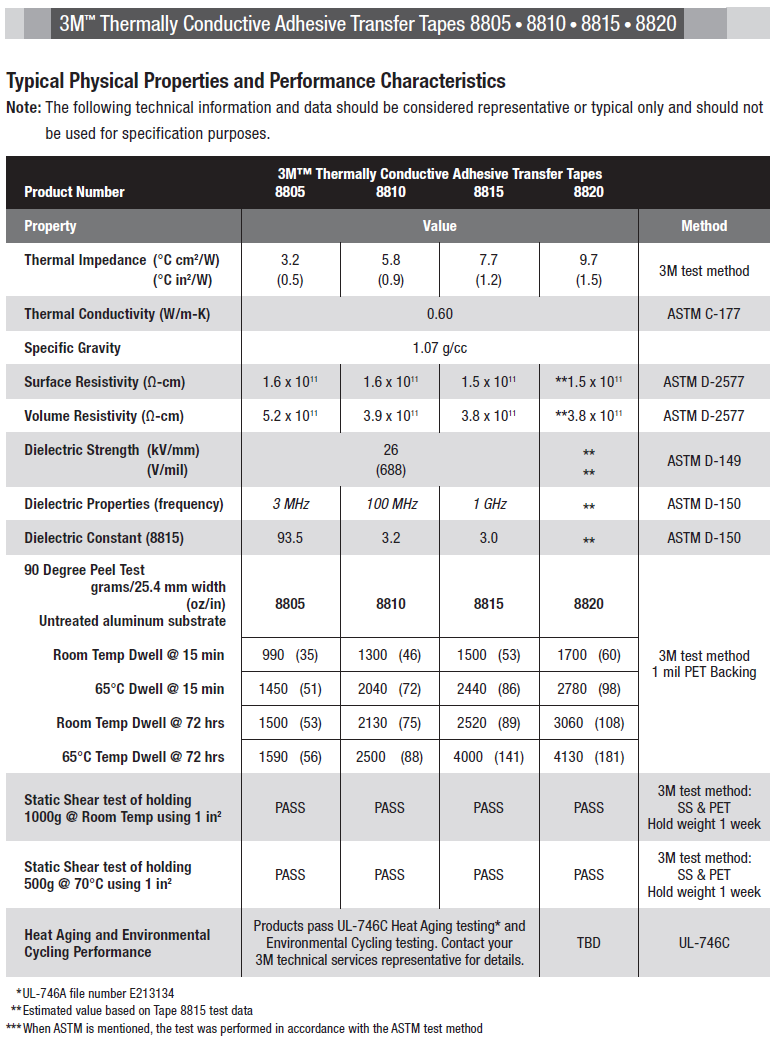 Applications
Provide a preferential heat-transfer path between heat-generating devices and cooling devices (e.g., fans, heat pipes and heat sinks).
For LED strips, CPU, heatsink,?cooling?electronics.
Battery thermal management, IC Packaging Heat Conduction.
The high end product CPU heat sinks and other adhesive special needs of the thermal conductive adhesive.
Apply to electronics industry, lighting industry, hardware industry, printing industry and other manufacturing industries.
---
Next:
3M F9460PC VHB Adhesive Transfer Tape Bonding flexible printed circuits (FPC) to aluminum stiffener or heat sinks.
---