Miracle Wrap Self Fusing Silicone Rubber Electrical Tape for Protecting High Voltage Cables
Product Detail
Product Tags
Product Description
KZ70 Self-Fusing Silicone Rubber Electrical Tape is a high-temperature, arc- and track-resistant tape composed of self-fusing, inorganic silicone rubber with an easy-tear and easy-strip liner. It has high formability, stable insulation. Applicable temperature is from -50°C to 260°C. Meeting an emergency the overload temperature can be up to 300°C. It also helps heat dissipation at the joint. This tape has excellent physical and electrical properties. It can be used in a variety of temperature range without heating and open flame, which is fast and convenient.
Features
High dielectric strength material (180°C long-term operating temperature).
It is not affected by the weather and provides outstanding resistance to ozone, tracks and arcs.
It can replace heat-shrinkable insulation material, especially suitable for substation insulation protection.
There is no need to heat with open flame to make it shrink and bond. One can use it without any tools and doesn't have to disassemble screws. It can be used in a variety of temperature range. Simple, easy to maintain, high work efficiency.
Long shelf life, synchronized with the cable.
Damping, avoid mechanical shock.
Standard Size and Colour (Customized size and colours are available)

Grey Colour   9.1m*25mm 0.5mm
Black,  red,  yellow,  green
5m*50mm 0.5mm , 5m*50mm 0.8mm, 5m*50mm 1.0mm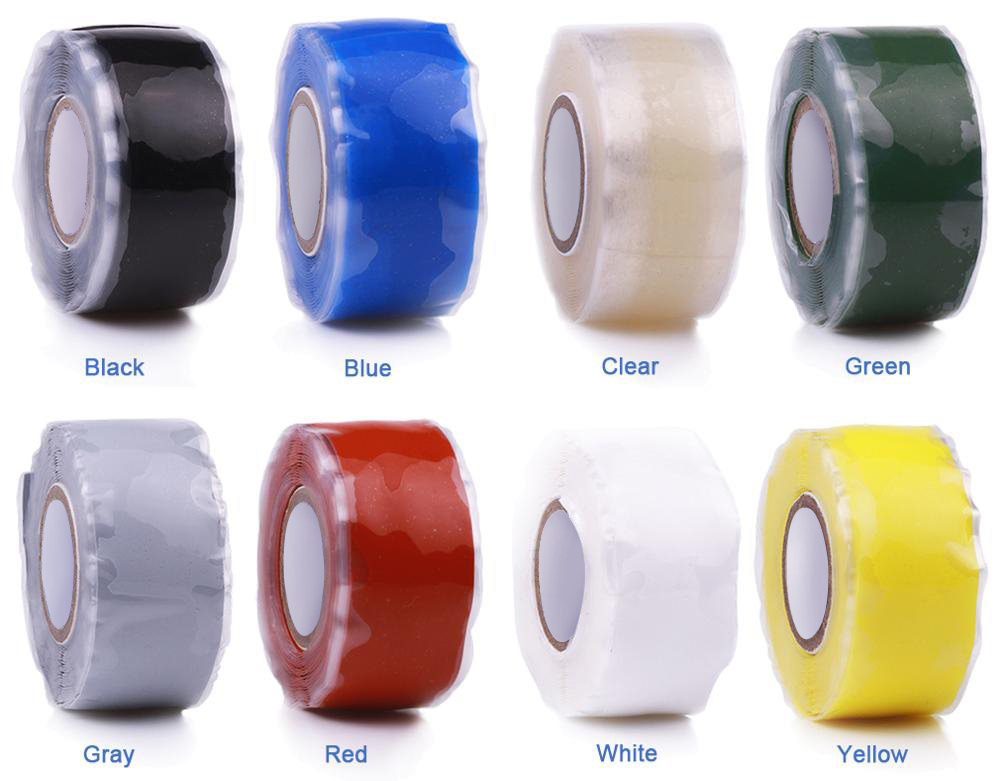 Datasheets
Mechanical capacity
Typical value
Color
black
Thickness
0.8mm
Elongation
450
Tensile strength
7. 8mpa
Temperature range
-50

℃

- 260

℃

Temperature in Emergency
300

℃

Dielectric strength
26KV/mm
Note: The above data are typical, not as product specifications, actual product data is subject to actual.
Usage:
Application
To protect high voltage cables and connectors of power supply system.
Insulation protection of outdoor busbars, switch busbars, busbars on the cabinet, electrical contact points of the equipment, screw connection of busbar.
Insulation protection in high and low temperature environments for power systems in mines, oil fields, chemical and other places that cannot be exposed to fire.
Insulation and waterproof protection in high and low temperature for the construction of high-light rail railway tunnels, vehicle factories, gongs, steel plants, shipyards, substations, power plants and underground engineering.
Insulation protection of high-temperature and high-pollution environments in special manufacturing industries.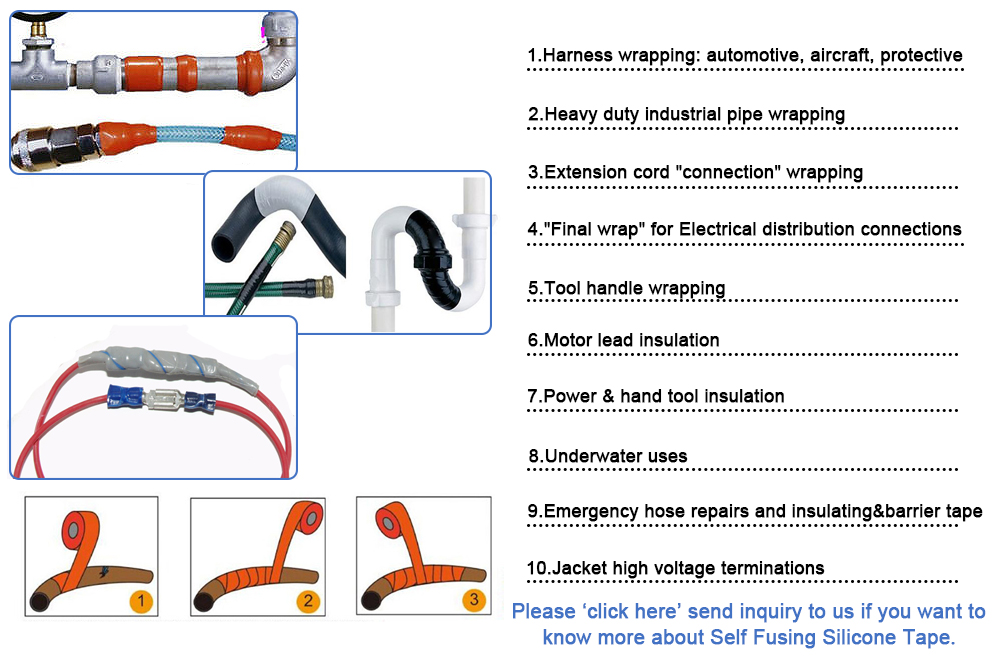 Usage
When using, peel off the release film, stretch it with force, semi-overlapping spiral winding, in order to get the best self-adhesive self-melting effect, to avoid the tape falling underground binding mud dust, to keep clean without sludge dust between tape layers. In addition, for the vertically placed terminal, the winding is started at a distance of 3cm or more from the cable jacket, the first layer is wound 3cm outside the terminal, and then the second layer is started back. After the second layer is completed, the previous operation is repeated. The third layer, so repeated until the desired layer thickness. In the winding process, moderately stretching 10% -100%, do not stretch the last lap, when finishing, press the tail for a moment to accelerate self-melting self-adhesion. For conditions that are prone to mechanical frictional damage, it is advisable to wind a few turns of PVC adhesive tape on the outer layer as a mechanical protective layer (this operation does not affect subsequent maintenance).
---
Previous:
3M70 Self-Fusing Silicone Rubber Electrical Tape for Protection of Terminating High-voltage Cables
---
Write your message here and send it to us