PTFE Coated Fiberglass Fabric Tape for Packing Food Heat Sealing Pressure Bonding
Product Detail
Product Tags
Product Description
PTFE fiberglass tape, also known as PTFE tape. It is the first fiberglass fabric, coated with PTFE emulsion made of  PTFE fiberglass cloth after drying. And then by a second coating made of silicone adhesive a high temperature tape.
PTFE tape is characterized by high strength, high temperature, normal temperature up to 260 degrees. At the same time the surface is smooth, anti-sticking, bright, resistant to all kinds of chemical corrosion.
PTFE tape is widely used in packaging, thermoplastic, composite, sealing heat, electrical and electronic industries. Fabric reinforced PTFE tape with more high strength characteristics, can be used in the sizing machine drum, thermoplastic mold release and other industries, can be used repeatedly, easy to replace.
Good heat resistance (continuous use temperature of 260 ℃ or more), even overheating of the heater can also be safe to use.
Good resistance to sticking, "dross" of the melted packaging film will not stick to the heater.
Excellent electrical insulation.
Walking stability, durability, easy maintenance.
Structure
Silicone adhesive
Ptfe coated fiberglass fabric
Data Sheet
Model

Thickness

Width

Adhesion strength

 (steel)

Tensile

strength

Temperature

ARS_F008

0.08mm

1250mm

22N/100mm

900N/100mm

-70-260℃

ARS_F013

0.13mm

1250mm

28N/100mm

1700N/100mm

-70-260℃

ARS_F018

0.18mm

1250mm

48N/100mm

2750N/100mm

-70-260℃

ARS_F025

0.25mm

1250mm

62 N/100mm

3650N/100mm

-70-260℃
Features
Used for low temperature -196 ℃, high temperature 300 ℃, with weatherability, anti-aging. After practical application, for example, under the condition of high temperature of 250 ° C, the continuous placing for 200 days not only does not reduce the strength but also does not reduce the weight; when the temperature is higher than 350 ° C for 120 hours, the weight decreases by only about 0.6%; at -180 ℃ Ultra-low temperature and maintain the original softness.
Non-adhesive: smooth surface, easy to adhere to any substance. Easy to clean and adhere to the surface of a variety of grease, stains or other attachments; paste, resin, paint, etc. Almost all sticky substances can be simply removed;
Chemical resistance, resistant to acid, alkali, aqua regia and various organic solvents corrosion.
Resistance, non-toxic. Almost resistant to all pharmaceutical items.
With high insulation properties (low dielectric constant: 2.6, tangent at 0.0025 or less), anti-UV, anti-static.
Fire retardant.
Easy to use, long service life.
Application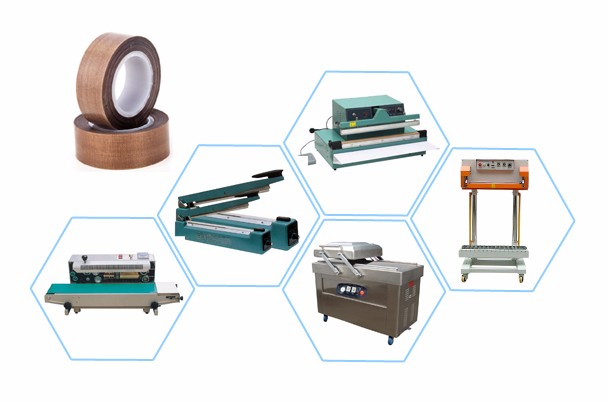 For packaging food, dairy products, pharmaceutical heat sealing pressure bonding parts
Plastic film heat sealing use
For packaging dyeing, resin processing with the surface of the pressure roller
Used to package the surface of the roll of the adhesive, laminate applicator
Used to encapsulate hopper, rail friction surface
Used to encapsulate non-sticky and need to maintain the smoothness of the part
As an insulating gasket, insulating parts of the insulating envelope and other PTFE adhesive tape composition:
Selection of imported glass fiber yarn coated PTFE resin, the production of PFTE glass fiber tape. The general volume of 1 meter wide, 50 meters per roll. Color is brown and black and white three, at the same time can be cut into various widths, and according to customer requirements of the production of various thickness of the adhesive tape.
Use of imported PTFE film, after special treatment on the high temperature silicone, the production of PTFE film tape. The maximum width can be done 1000MM, the color is white two gray. At the same time, according to customer requirements processing.
---
---
Write your message here and send it to us